Hospital Home Care Service

In Ugandan hospitals, family members are required to provide the care for patients in hospitals - meals, washing, personal care. If unavailable, families need to arrange for an attendant. On discharge or when an older person needs ongoing care at home, it can be very difficult for family members if they far away, overseas or in the city. TAFU has developed a Hospital Home Care Service to cater for these circumstances. The Hospital Home Care Service can provide trained nursing aides for full time short or long term care in the home or in hospital.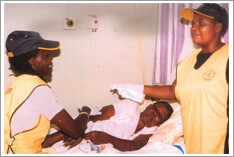 HHCS Staff
TAFU's HHCS's trained staff are appointed, not only for their experience and skills, but also for their reliability and dedication to the special demands of hospital and home care service.
In addition to their nursing aide qualifications they also receive further training in care of older persons, issues regarding living with a person or family full-time and complete a week's training at a hospital ward.
TAFU has a strong relationship with two palliative care services.
Services
Nursing aides can assist with personal care, prepare light meals, help out with the shopping, collect and give medications as prescribed by the Doctor, conduct physical therapy such as massage and provide companionship.
TAFU staff can provide guidance on services, arrange visits to or from the Doctor, provide transport, arrange a physiotherapist visit to guide the nursing aides, and manage medical bills. They can also arrange home maintenance and improvements if relatives are absent and keep in regular contact with relatives as requested. TAFU charges a fee for the Hospital Home Care Service, depending on the services the older person requires.
It is important to provide information about the older person needing care so that the HHCS can provide a professional service. Relatives are asked to complete the information requested in the referral form and to meet with or talk to TAFU. If preferred, TAFU can match the background – gender, tribe, religion- of the nursing aide and older person. TAFU will also visit the older person at home or hospital to further understand the person's needs. While the referral process takes time, it is TAFU's experience that the care arrangement works much better when the older person, relatives and TAFU all have the same expectations about what services are to be provided.
TAFU has very limited capacity to care for older persons whose family members are unable to pay. However, with financial assistance from Government, charitable organisations or individual sponsors
and you
,
TAFU could expand the Hospital Home Care Service to include more disadvantaged isolated older persons.
Download
the HHCS referral form.
Please complete the
HHCS Referral form
, and email it to contact@tafu.org, or fax it to 256 414 345 580.