Hospital Home Care Service

In Ugandan hospitals, family members are required to provide the care for patients in hospitals - meals, washing, personal care. If unavailable, families need to arrange for an attendant. On discharge or when an older person needs ongoing care at home, it can be very difficult for family members if they far away, overseas or in the city. TAFU has developed a Hospital Home Care Service to cater for these circumstances. The Hospital Home Care Service can provide trained nursing aides for full time short or long term care in the home or in hospital.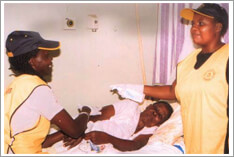 HHCS Staff
TAFU's HHCS's trained staff are appointed, not only for their experience and skills, but also for their reliability and dedication to the special demands of hospital and home care service.
In addition to their nursing aide qualifications they also receive further training in care of older persons, issues regarding living with a person or family fulltime and complete a week's training at a hospital ward.
TAFU has a strong relationship with two palliative care services.
Services
Nursing aides can assist with personal care, prepare light meals, help out with the shopping, collect and give medications as prescribed by the Doctor, conduct physical therapy such as massage and provide companionship.
TAFU staff can provide guidance on services, arrange visits to or from the Doctor, provide transport, arrange a physiotherapist visit to guide the nursing aides, and manage medical bills. They can also arrange home maintenance and improvements if relatives are absent and keep in regular contact with relatives as requested. TAFU charges a fee for the Hospital Home Care Service, depending on the services the older person requires.
It is important to provide information about the older person needing care so that the HHCS can provide a professional service. Relatives are asked to complete the information requested in the referral form and to meet with or talk to TAFU. If preferred, TAFU can match the background – gender, tribe, religion- of the nursing aide and older person. TAFU will also visit the older person at home or hospital to further understand the person's needs. While the referral process takes time, it is TAFU's experience that the care arrangement works much better when the older person, relatives and TAFU all have the same expectations about what services are to be provided.
TAFU has very limited capacity to care for older persons whose family members are unable to pay. However, with financial assistance from Government, charitable organisations or individual sponsors
and you
,
TAFU could expand the Hospital Home Care Service to include more disadvantaged isolated older persons.
Download
the HHCS referral form.
Please complete the
HHCS Referral form
, and email it to contact@tafu.org, or fax it to 256 414 345 580.
My name is Jackson Ndiwa Aliwa, and I work and live in Botswana. Originally I am from Uganda, where the rest of my family resides. I must say that I had no idea that there are Ugandan compassionate and caring entrepreneurs that had moved to set up an organisation like TAFU. For our kind of economy, cultural backgrounds etc, the idea of an organised system of caring for the aged seemed alien to me - only reserved for the first world- Europe and North America to be precise. So I was impressed to get to know of the existence of TAFU. This email is meant to be a short one, addressing a specific issue. My wife, Nightingale Aliwa, went to Uganda on 26th August 2008 to see her ailing mother (Mrs Alice Ochero), and when she got there, she called me and told me how a 'loving, Christian, young lady' was tenderly looking after my mother. She is a wonderful Ambassador of TAFU! She is professional, loving, caring, compassionate, and has a big heart for the elderly. I yet have to see somebody who acts like a nurse, physiotherapist, nutritionist, prayer woman - in short, with a big loving character - as this lady. Since they arrived here on 9th September, the old lady has picked up weight, and is able to give the warmest smile you could ever get!! So, to end, thank you so much TAFU for the good work you are doing for our elderly people, given the way the world is moving fast now and the basukulu cannot always be available to serve the bajaaja (forgive my little Luganda - I am from Kapchorwa!!). With my excitement, I am bringing to the attention of all Ugandans resident in Botswana about your organisation. May god richly bless you as you take tafu country-wide, and also guide you as you engage loving and caring young people who will take care of the elderly in a dignified, tender-loving manner!!
A Happy Jackson Ndiwa Aliwa